The Labels
When we decided to start the vineyard and make wine, we knew we wanted our labels to reflect our journey....
and what a lovely journey it has been! Take a look at the origins of our eclectic mix of labels.
Bill & Colleen Jackson
Frutta di Luna – (Our very first wine!)
Syrah 2008
Our home in Fallbrook, CA sits on a few acres high on a hill surrounded by avocado groves. The topography of the area reminds us a lot of the hills we love in Tuscany.
From our lofty vantage point, one of our monthly treats is watching the huge, full moon rise above Palomar Mountain. We started calling this monthly event an "Avoluna" (pronounced with your best Italian accent). Growing avocados seemed exotic and yummy for a couple from Kansas, but it just didn't have the allure of a vineyard.
So, a year after moving in we hired a crew to rip out about 25 trees so we could plant a vineyard. That was the birth of Frutta Di Luna, Italian for Fruit of the Moon.
Of course the name might also be a play on "Fruit of the Loom" – a brand name we all know, see the nod to them on the front label.
We firmly believe the especially bright moonlight here in Northern San Diego County is the reason we grow such flavorful grapes and make such tasty wine.
Cork's Crush – Syrah 2009
Syrah wine has its own unique character. Cork, our dog, is quite the character too. While he prefers to drink pool water not wine, he occasionally enjoys lying with the ants and bug in the vineyard isles while waiting for the grapes to ripen.
Of course he's always waiting for his next chance to play "squeaky ball", his real passion!
He was christened Cork, Syrah, Syrah when he joined the pack in 2006 and we've had a CRUSH on him, ever since.
Vicini Pazzi (or Crazy Neighbor!)
Syrah 2010
On a country lane northeast of Florence, Italy, sits a 15th century castle, Castello del Trebbio. There, in a small private chapel, Colleen and I were married. For us it was magical – and it was there where we first heard of an infamous, renaissance conspiracy. (The connection to our beginning together also makes this our favorite label)!
In the 14th century, Castello del Trebbio was home to the powerful and ambitious Pazzi family. However, they were over–shadowed by the legendary Medici family who controlled Florence. In a bold conspiracy to eliminate the competition, the Pazzi's and others assaulted Lorenzo and Giuliano de Medici during Easter High Mass in the Florence Duomo before a crowd of 10,000.
Giuliano was stabbed and bled to death on the cathedral floor. Lorenzo, escaped with serious injuries. Enraged Florentines seized and killed all the conspirators. Jacopo de' Pazzi was tossed from a high window, dragged naked through the streets and thrown into the Arno River. The Pazzi family was stripped of their possessions and every vestige of the Pazzi name erased.
To this day, the word "Pazzi" is a slang term in Italy for crazy, "Vicini" means neighbors. The Medici's certainly had crazy neighbors and we still have them today!
Fortunately the "Vicini Pazzi" in this bottle is just crazy good.
Angels Share – Syrah 2011
As many Oenophiles know, the "angel's share" is a term used for the small amount of alcohol that evaporates out of barrels during proper fermentation.
The power of wine in literature, in romance, in commerce and to the brain undeniably, comes from the alcohol. The power of a wine can be subtly changed by simple evaporation. Similarly, the power of a word can be easily altered by the power of a simple comma. As on our label!
"Angel's share", meaning something lost, becomes "angels share", as an admonition to be generous.
"Angels Share" was the altruistic lesson our mother's tried to teach us as children. It's a good neighbor policy when someone wants to share your lawn mower. But, it's a totally different sacrifice when they want to share your bottle of an exceptional wine.
So, while your mother may not approve, we expect you might refuse to share this tasty bottle of Syrah. It's devilishly good!
Free Falling Red - Syrah 2012
In 2011, Bill had a muse for a label inspired by the song, "Free Falling" by Tom Petty. He used this in his 2012 Syrah.
The girl with the flowing red hair, who appears to be free falling down the front of the label, perfectly reflected his vision.
This mellow Syrah, with just a touch of Grenache, was aged in French oak barrels for 18 months.
We nurtured these grapes from bud-break to sweet ripeness in the perfect weather of the hills ofNorth County San Diego.
Pop the cork on this luscious wine and feel free to FALL IN LOVE.
Music's Magic – Syrah 2013, 2014 & 2016
The 2013 label is probably our most personally inspired. It began with Bill's poetic description of how music touches our lives. Bill and Colleen commissioned a 18' x 24' mosaic mural, created with glass and tiles by artist Steve Murillo, which now hangs on our building on Douglas Avenue in downtown Wichita, Ks and visually reflects the poem...
"Music is an ethereal stream of
magical energy flowing through our lives.
For some people it simply meanders nearby.
For a few more fortunate, it washes over them.
For a select few, it courses through
their entire being."
Bill Jackson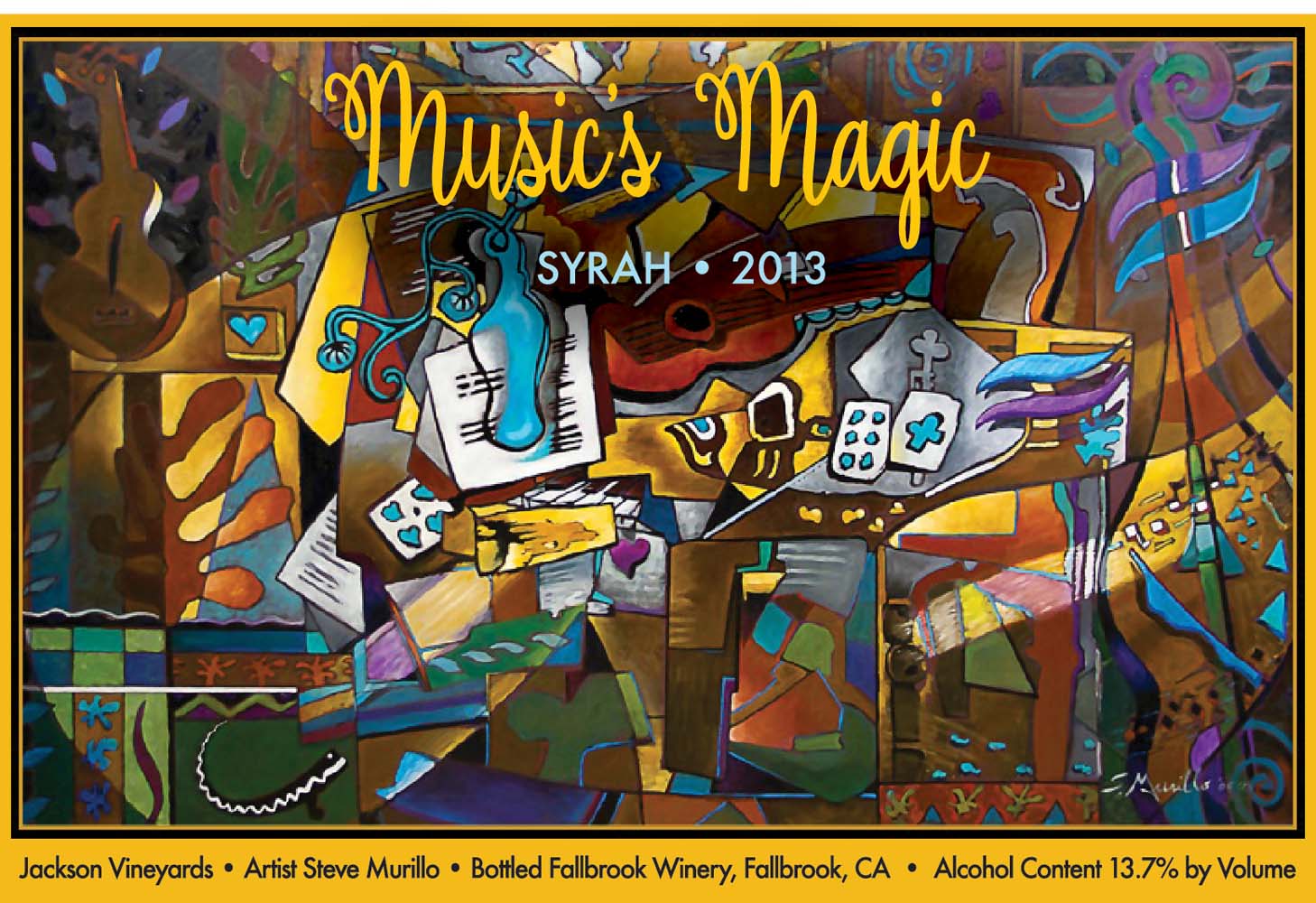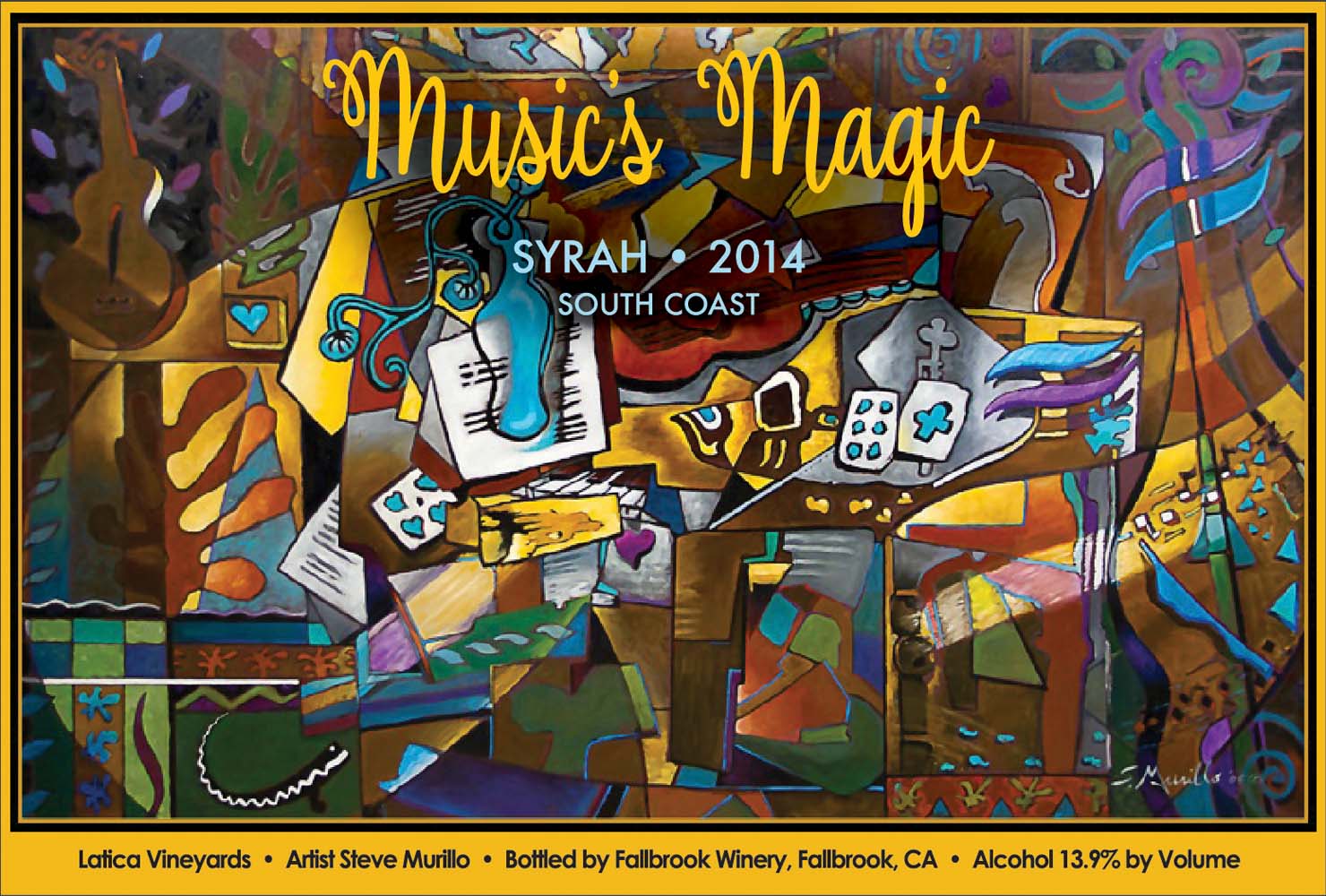 Coccinella (or Lady Bug)
Grenache Blush 2014 & 2018
The 2014 label of our first Grenache was inspired by our favorite little vineyard bug. We chose to do a blush and the beautiful color reflects her many red hues.
Chilled...it's perfect for sipping on a warm day with friends!
"She's the vintner's friend, patrolling the vines.
A speckled spectacle of spring, a fashion
statement on the wing…
A miniature orange kite, and tiny dot-to-dot delight."
J. Patrick Lewis
Rumore Bianco (or White Noise)
Sauvignon Blanc 2014, 2017 & 2018
Our first Sauvignon Blanc harvest caught us off guard by ripening on August 1st, instead of the typical time in September! It was picked, crushed, fermented in steel containers and bottled within three months. At Thanksgiving, we toasted our first, amazing taste of this delightful, white varietal.
We think this is our classiest label, and notably the last with the Jackson Vineyards logo.
This Sauvignon Blanc is grown on an east facing hillside in northern San Diego County. Cool nights and warm days help produce this crisp, elegant and fresh white wine. This Sauvignon Blanc retains a great length and invites further indulgence.
When slightly chilled it pairs well with fish or cheese, particularly chevre. It is also known as one of the few wines that can pair well with sushi.
ENJOY!
Lagarto (or Lizard)
Red Wine Blend 2014, 2015 & 2016
In 2014, we did our first custom blend. Our Sangiovese and Cabernet Franc came together in this table red which compliments your favorite Mexican cuisine, grilled meats or pasta dish.
The label was inspired by another fun creature who roams our acreage and keeps Bill company in the vineyard.
Hundreds of these little lagartos (Spanish for lizard) patrol the vineyard, helping us control pesky ants, spiders, worms and beetles.
These little vineyard helpers can live up to 15 years if they can avoid the all too common road runners, coyotes and snakes.
Mother Nature's cute little exterminators always bring a smile to our faces when they scamper through our vines.
The Largarto label is dedicated to their untiring work!!

GSM – 2014, 2015 & 2016
One of our favorite wines is GSM, in Bill's opinion "one of the worlds great wine blends". GSM is made from Syrah, Grenache and Mourvedre grapes, which are blended to give the wine maker more control over the taste profile of the finished wine. In 2011 we planted these three grapes varietals with one intention…to create our own Jackson Estate GSM Blend!
Syrah 50%
Brings dark fruit flavors of blueberries, plum and even a hint of black olive.
It brings much of the upfront flavor but not a lot of aftertaste.
Grenache 30%
Is buy far the lightest color of the three wines, it adds flavors of candied fruit, raspberry, cinnamon spice and ruby red grapefruit.
Mourvedre 20%
A deeply rich and dark wine is similar to Syrah but with a more persistent finish. In the GSM Blend it adds tannin structure and floral aromas.